Service and Maintenance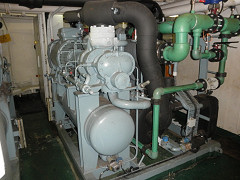 Trilobes supplies refrigeration systems which are specially designed for its purpose and after engineering, design, installation and testing, they will be fully operational. During their use onboard of on shore they will need service and maintenance. The most important starting points for servicing are: maintenance requirements of the chosen system, preventative inspections and extending the economic life of the system.
The expertise of our service staff is available every day, with frequent inspections for safety and operational reliability, and advice about environmentally-friendly refrigerants, modifications and adjustments can be given.
Spare parts can be supplied and our trained service engineers are available to carry out:
Electrical and refrigeration engineering repairs
Inspection and maintenance of suction and screw-type compressors
Complete overhauls of suction and screw-type compressors
Air-conditioning systems and food storage systems
Specialized refrigeration systems for maritime and land-based industry
Corrective service and maintenance, breakdown follow-up
Inspection service, periodical inspection for safety and operational reliability
Preventive maintenance, periodical maintenance
All-in service, comprehensive outsourcing of systems management and operation
Special analysis
Alignment of compressors
Training for client maintenance technicians
Technical cleaning of coolers and condensers
Noise and vibration measurement
Thermo graphic studies
Calibration of temperature and pressure gauges
Monitoring and data logging